13 Oct

Insuring Incremental Through Fruit Processing & Off-season Vegetable Production

Mayunpa is a small village in the Baltistan region, situated 71 KM away from the district headquarters Skardu on Skardu Gilgit road on the bank of the river Indus. The VCTAT of ETI GB mobilized the farming community of Mayunpa for collective agribusiness. The cooperative was formed including 252 farmers of the village as members and they elected a Cabinet and a Board of Directors named "Mayunpa Farmers' Cooperative Society Ltd" MFCSL.


Like other areas of Baltistan, smallholder farmers of Mayunpa were involved in subsistence agriculture. From an analysis of baseline data of MFCSL, it was evident that there was no commercial crop production in the area. Reasons included limited financial capabilities of farmers to afford improved inputs and tools, no exposure to Good Agriculture Practices, no proper linkages to markets, individual marketing with limited quantities, and inferior products.
After registration of the cooperative, they decided to establish their collective agribusiness through the production of off-season crops, such as onion and red beans. ETI GB supported the cooperative by providing improved agriculture inputs for crops including seeds, fertilizer, pesticide, and packing material for onions and better tools for apricot dehydration. Through the best available trainers, all member farmers were trained in modern agriculture practices.
Results of the Intervention
Through the support of ETI GB and coaching and handholding of VCTAT of ETI GB, the cooperative started its business with commercial production of onion and red beans replacing millet and barley. With the efforts of the members of the cooperative, they were successful in producing bulk quantities of both crops for local markets. Before the harvest of both crops, the marketing committee of MFCSL contacted different wholesalers of local as well as Skardu markets and for the first time, they established linkages with the markets and sold their produce at better prices through bulk sales.
Baseline-2020
2021
2022
Product
Farmers
Marketed (Kg)
Sale Price/ kg
Marketed (Kg)
Sale Price/ kg
Marketed (Kg)
Sale Price/ kg
Apricot
252
20,570
35
Awaited Approval
35,120
170
Onion
252
3,581
35
Awaited Approval
12,571
65
Success Stories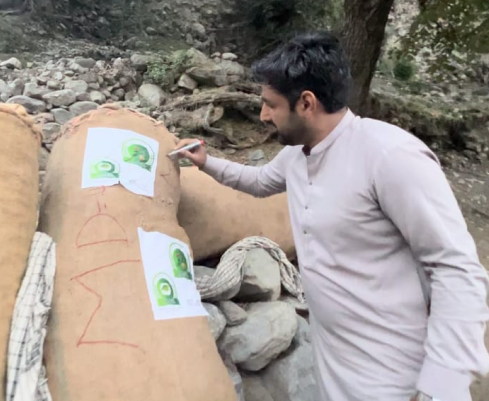 Mr. Altaf Hussain, a young member of MFCSL, has also been supported by the project. He was able to participate in the collective marketing of products under the cooperative. "I thank the government of GB and IFAD for designing and implementing the ETI GB program which is changing the lives of the local small farmers," said Mr. Hussain.